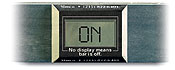 ON-INDICATOR -DISCONTINUED! No longer Available!

The On-Indicator is an inexpensive, fast and easy verification that your BlueBar is operating properly.
The On-Indicator, for use with the R50 and HL  BlueBar, has an LCD display that automatically reads ON when your Blue Bar is working properly.  No display means that there is an interruption to the Blue Bar's proper operation.
Click on these links for information on the R50 BlueBar  and BlueBar HL.