Simco-ION ThunderION Static Bar
The ThunderION offers long distance static elimination using a revolutionary, replaceable, emitter design for maximum ion output. The reinforced extruded profile design provides a durable bar construction up to 13′ 1″ long, and a sealed emitter channel that allows for easy point access and cleaning.
The truly unique feature of the ThunderION is the integrated high voltage power supply that makes this unit the most user-friendly ionization product available today. There are no high voltage cables and the ThunderION only requires a 24VDC low voltage input.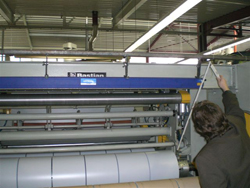 The ThunderION was specifically designed to neutralize static charges from a distance, without using fans or compressed air. ThunderION is ideal for difficult application issues like re-winds, plastic bottle making/palletizing, plastic bag making or silkscreening.
The application photo shows the ThunderION on a turret winder (built by Bastian), with a distance measurement of 800mm (approximately 31.5") from the ThunderION bar to the substrate.
The ThunderION provides:
· Extended range static neutralization
· Integrated high voltage power supply requiring only a low voltage input of 24V DC
· Reinforced extruded construction allowing individual bar lengths up to 13'
· Easy installation
· Unique, replaceable, emitter points that produce high ion output
· Adjustable pulse frequency
· Two LED's for bar ON and bar FAULT
· Remote ON/OFF and performance OK
· Overload protection with automatic high voltage switch off
· Arc Detection circuit
· Open construction for easy cleaning
Specification:
| | |
| --- | --- |
| Shockless or Hot | Hot |
| Ionization Output | Very High |
| Approved for hazardous locations | No |
| Intended for heavy, normal or light industrial applications | Any |
| Maximum overall length | 157 inches |
Design Your ThunderION Static Bar
It's easy to configure and order a Simco ThunderION static bar to fit your requirements. They are available in 4.92" increments starting with overall lengths from  17.91" with three ionizing emitter pins up to 165.55" with 33 ionizing emitter pins.
Simply select the overall length of the static bar you need, determine if you can supply the 24VDC required to operate or if you need to purchase a power supply from us, then E-mail us or call C.C. Steven at 805-658-0207 and we'll get on built for you!